Details Of The Disappointing Outdoor Gym Equipment Circulated To Every Home In Burgess Hill!!
14th October 2012
Regular readers will be aware how we here at Burgess Hill Uncovered were ever so slightly annoyed with the outdoor exercise equipment installed in St Johns Park over the Summer. Read the original story here.

For those of you that don't know, the equipment purchased was old end of line stock that the Great Outdoor Gym company couldn't shift - Perfect for Burgess Hill. The installation of the equipment was also a disgrace. It's the only location in Mid Sussex where it's been installed directly into the earth with no surface covering.

Burgess Hill Liberal Democrats Aid The Big Exposé
This week the Burgess Hill Lib Dems begain circulating their Autumn 'Focus' newsletter to all the households in town. Look at the main story on the back page....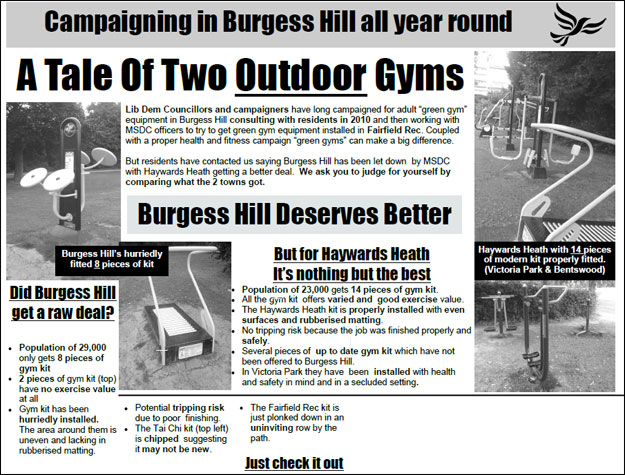 Oh dear, looks like Publicity Pru Moore - cabinet member for leisure and recreaction, and the rest of the district council have been well and truely shown up. On this occasion, the Lib Dems should be applauded for bringing this issue to the attention of all those in Burgess Hill that don't use the internet. They too have spotted the Haywards Heath bias that the District Council so often demonstrate.

Why do we keep having to be second best?


Did you find this news story useful? Please share it with your friends.

Got an opinion on this story? Leave a comment below.....
With this story now being revealed to the entire Burgess Hill public, will MSDC will do anything to put it right? Do you think they should? Do you think that the public should be consulted a great deal more when it comes to leisure expenditure in our town? Is it wrong that the final decision is left to just one person?