Public Celebrate As Countryliner Bus Company Go Bust
11th October 2012
When a company goes out of business it's usually a sad occasion. When it's a local bus company that serves Burgess Hill it should be a time of great concern too. We here at Burgess Hill Uncovered don't use the local buses so we assumed that this was a bad news story. Not according to members of our Facebook page...
If Countryliner invested In employing half decent bus drivers and not arrogant rude idiotic tw*ts they prob wouldn't go Bust !!!!
Had two very bad experiences with Countryliner bus drivers recently so quite frankly glad to see the back of them. We've had Southdown in Haywards Heath today, cleaner buses and uniformed drivers. Big improvement.
YEEEESSS. Maybe we might get a bus that was not designed in the swinging 60's with the dirt of a rubbish truck.
They've been in a state for a while. Questions must surely be asked of WSCC, especially so soon after awarding the new contracts
At least they won't be breaking the speed limit on junction road then when I'm walking my daughter to school. Feel sorry for those potentially to become unemployed but that route and their speed up there is frightening...
No more head ons in Petworth Drive in the morning.... :)
Maybe if they didn't charge so much for rarely run, poorly run, filthy busses, they might have got enough customers to keep them afloat.
Thank god !!maybe get a bus service that actually run buses on time and that show up !!! Awful service from this company ..
Ouch! Since the collapse of Countryliner, many other local bus companies have stepped in to cover the vacated services. Burgess Hill Town Council have provided the following information......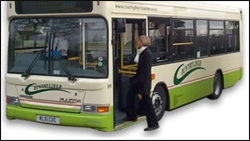 For the foreseeable future the following companies will be running the bus services:

Heritage – 31, 33, 34, 35, 39, 40, 40X
Southdown PSV – 30
Stagecoach – 261
Compass – 166
Village Rider – 824

Bus times will be running to previous schedule.
Did you find this news story useful? Please share it with your friends.

Got an opinion on this story? Leave a comment below.....
Were Countryliner really that bad? Do you have anything good to say about them?
Have you used any of the replacement services yet? Are they an improvement?