A Special Bike For A Special Boy - Can You Help?
18th September 2012
It's not often that we get to write about something nice here on Burgess Hill Uncovered, so we jumped at the chance when we found out about a child in need.

Meet 10-year-old Kieran Emerson, he suffers with cerebral palsy (GMFCS level 2) He also has anxiety attacks and learning difficulties. Kieran recently had an MRI scan which revealed he has brain damage on both sides of his brain due to a brain trauma whilst he was in the womb. Kieran has come so far despite his physical disability, he can walk and run - just not as well as others. He struggles emotionally with everyday life.

Due to his condition, Kieran has reduced muscle tone in both his hands and legs. He also has very poor balance. Unfortunately riding a bike is one thing that he cannot do.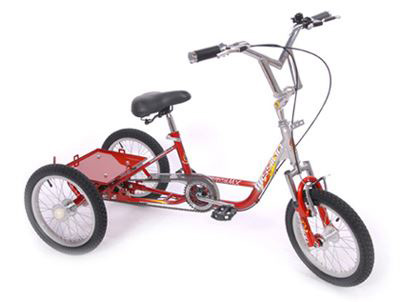 Kieran's mum Lisa Thompson said "All summer he watched his younger siblings and his friends riding around on their bikes and he just wants to be able to join in. Kieran is very strong willed and never lets his disability stop him. He did a six mile walk with his school even though health professionals thought it would be to much for him and advised him to only take part in half of the walk. I just want to give him a normal bit of childhood that most kids have."

There is a solution to the problem. Kieran's parents would like to buy him a special trike, but it doesn't come cheap. This isn't a £99 jobbie from Halfords we're talking about here, but an eye-watering £530 worth of machinery. It's a sum of money that is beyond the budget of most families.

Can The BHU readers help to reach the target?
The family have set up a donations page on GoFindMe.com hoping that friends, family and the wider public would be so kind as to contribute to the fund.

Kieran's mum Lisa is planning some additional fundraising, but will it be needed?
At the time of writing this article around £270 has been raised, consisting of online donations and money from members of Kieran's Kung Fu group! If 50 more people donate £5 each, the target will be reached. Can the Burgess Hill Uncovered readers help make Kieran a very happy young man?

Do you wish to help spread the word of Kieran's bike appeal? Please share it with your friends using the buttons below