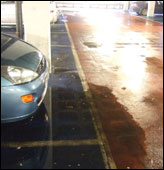 Boating Lake Installed At Local Car Park
3rd December 2008
Are you one of the many residents of Burgess Hill that is fed up with the extortionate prices being charged to swim at The Triangle? Well, fear not, as the council are providing a brand new, free facility for all you tax payers out there - the multi storey car park.
As our exclusive pictures from November 28th show, the middle floor of the blue whale of Burgess Hill developments has recently turned into a water feature that Charlie Dimmock would be proud of. While on the surface there are a number of obvious benefits, including an increase in town centre wildlife as animals flock to this watering hole, the reality is that if this is Burgess Hill's own version of the Atlantic Ocean, then what has been produced can only be described as a mistake of Titanic proportions on behalf of the council.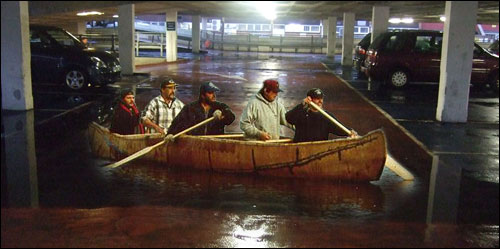 Cast your minds back to 2005, when the multi storey car park was closed for just over four months for extensive refurbishment. We were promised a much-improved version of what had become a popular venue for the town's boy racers and thrill seeking trolley riders, and the result was that a few months after re-opening, it was closed again. This was put down to the new surface 'lifting', and the council were forced into paying an extra 50% on top of the original fee to have the problem rectified
At the time of the first grand re-opening, Councillor Gordon Marples said, "Now that the works have been finished, we know users will notice the difference. The car park is now more welcoming and is an important amenity for the town"

Fast forward three years and users certainly are noticing the difference. Now, they are required to wear a wet suit and have a basic understanding of how to pilot a canoe to get from their car to the shops. Despite all the tax payers money that the council has chucked at the multi storey in an attempt to improve it, it doesn't seem to have made any difference - to say it is back at square one would be an insult to square one's the world over.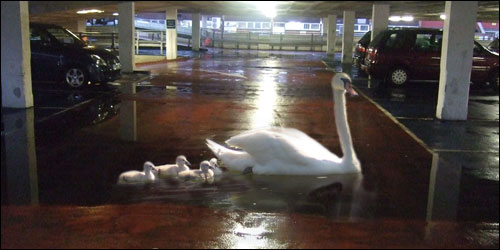 It begs the question are the council going to rectify this latest problem, and if they are then how much more of tax payers money are they going to spend on it? And if that is to be the case, then how many more times is this cycle of events going to occur?
As part of the towns Christmas fair, the top floor of the car park is to be used as an ice rink this coming Saturday. The council could do a lot worse than to make it a permanent feature, and turn the lower levels into some much needed recreational facilities for the town, as opposed to continuing to bank roll an outdated, underused and extremely wet car park.

How long do you think it will be until a small child drowns in one of these puddles?
Let us know your thoughts by emailing news@burgesshilluncovered.co.uk or by leaving a voice message on 0208 123 1062 (local rate)