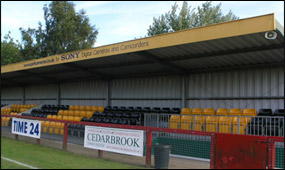 Bye Bye Burgess Hill Town Football Club?
16th April 2008
A 125-year-old institution, an idea that keeps kids off the street, encourages exercise, and a venture that puts Burgess Hill on the map. Any right-minded individual would feel that this is something we should be protecting, not threatening. Unfortunately, it would appear Mid Sussex District Council aren't right minded in the slightest, with the news that they are intending to evict Burgess Hill Town Football Club from its Leylands Park home
On Thursday 10th April, the council decided to inform the club that they would be terminating the lease on their ground with effect from October 13th 2008. They intend to do this using a clause in the contract; a clause which the club was assured would not be used to resolve landlord and tenancy matters
With the club looking as though they will be effectively homeless from October, it means that they will not be able to complete their home fixtures for next season without a ground share in place. League rules state that notification of a ground share must be received by May 31 - giving a whole six weeks for the Hillians to find another local club, with facilities that are up to the required standard of the Ryman League, and who would be willing to let them use their pitch. Not an easy task at all
The only feasible future for the site without the football club is housing, and with housing comes a large wedge of money. The eyes of our councillors have obviously lit up with pound signs at the thought of developing this prime bit of real estate, and so it is a case of pack your bags football club.
By removing the club from its home, and threatening its very existence, it begs the question do the council actually care about sport? Will they be evicting Southdown Rovers next in order to develop their site into houses? How long before St Andrews Cricket Club have to leave Sidney West completely? Is Poveys Close another prime site for development, so Burgess Hill Rugby Club will be slinging their hook?
A forward thinking council would realise the benefits of having a local team. By all means, develop Leylands Park if you must. But at least find somewhere for the football club to go first. A community venue could be developed relatively cheaply that provides much needed activities and facilities for the town first, and a home for the club second. A new home would help push the football club up the pyramid, meaning bigger clubs visit, more fans turn up and pump more money into the local economy. You only have to look at Crawley Council and their vision and construction of the Broadfield Stadium to see what a development like that can bring to a town. Unfortunately the council seems blind to these benefits
The football club plays a vital role in the lives of our towns residents - ranging from the teenagers who turn out on Sundays for their Under 14s and Under 16s sides, to those whose Saturdays are filled with the passion, comradery and joy that the club provides. They are ranked the 8th best team in Sussex, and their achievements help put the town on the map across the South East. The council are elected to represent the people, yet they seem to be completely out of touch with public opinion about the football club. By making the football club homeless and threatening its very existence, they are removing one of the very few establishments that this town can be proud of.

Be sure to check back for futher news as this story develops.

Save BHTFC Petition : http://www.ipetitions.com/petition/saveburgesshill....
BHTFC Statement: http://www.bhtfc.co.uk/Latest/NewsItems/0106_PressRel.htm
BHTFC Forum: http://thehillians.proboards30.com/index.cgi?board=general
Nomad Forum: http://www.nomad-forum.co.uk/forum/burgesshillfaceeviction
Argus Report : http://www.theargus.co.uk/sport/argusgeneralsportsnews/burgesshill