Burgess Hill Concerts Present...
Joy Lewis and Derrick Hughes - Multi-instrumentalist folk duo
Charity Concert In Aid Of Chestnut Tree House

Saturday 29th February 2020. 7.30pm
St Edward's Burgess Hill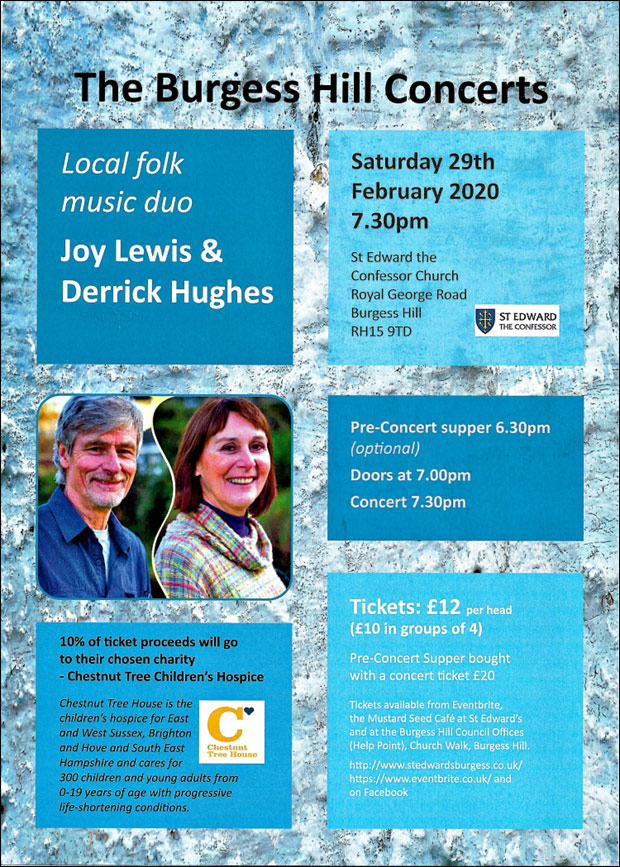 Joy Lewis and Derrick Hughes are a popular folk music duo based in Sussex who have been playing together for many years. Between them they play a wide variety of instruments including guitar, small pipes, hammered dulcimer, bowed psaltery, concertina, harp, serpent and an ever-growing collection of recorders and whistles.
They are regular performers at weddings, concerts, parties and other social gatherings, and also provide musical talks and after-dinner entertainment for a range of different groups. Whatever the audience, their emphasis is always on entertainment with plenty of humour.

This is the fifth concert in a series at St Edward's featuring gifted and home grown musicians across the musical spectrum.
As a group focused on the community, this is St Edward's attempt to bring different styles of music to the community of Burgess Hill.
10% of ticket proceeds will go to Joy and Derrick's chosen charity – Chestnut Tree House - the children's hospice for East and West Sussex, Brighton and Hove and South East Hampshire that cares for 300 children and young adults from 0-19 years of age with progressive life-shortening conditions.

The concert is hosted by St Edward The Confessor Church which is donating 10% of the ticket revenue to the artists' chosen local charity with the remainder going to support the work performed by the church.
When: Saturday 29th February 2019. 7.30pm
Where: St Edward the Confessor Church, Royal George Rd , Burgess Hill, RH15 9TD
Tickets:
Tickets available at £12.00 or £10.00 in groups of four
Pre-concert meal in the Mustard Seed Cafe £20.00

Buy From:
The Mustard Seed Café at St Edwards and at the Burgess Hill Town Council Offices (Help Point), Church Walk, Burgess Hill.

Buy Tickets Online:
https://www.eventbrite.co.uk/

Refreshments:
Wine by the glass £3
Coffee or tea with cake in the Mustard Seed Café £3

For more Information:
For more information please contact Roy Stannard @ roy@leagraham.com or 07803 269154 http://www.stedwardsburgess.co.uk/

Artist website: http://www.joydeckmusic.co.uk/
Local Vehicle graphics and design company Preview has kindly sponsored the event. Thanks also to Burgess Hill Radio for its support.