2023 Burgess Hill Town Council Election Candidates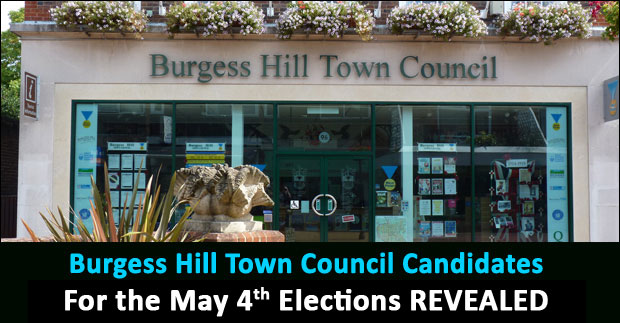 In total, 20 councillors will sit on Burgess Hill Town Council - an increase from the 18 elected in 2019.

The town has seen the creation of two new wards due to the emergence of the 'Northern Arc' they will be called Brookleigh East and Brookleigh West.

Four wards have merged into two. Norman ward is no more and has become part of Victoria ward and will elect three councillors. Meeds and Hammonds have combined, electing two councillors.

The town council election takes place on Thursday May 4th.
The full list of the candidates running for election on to Burgess Hill Town Council:
Brookleigh West - Elects One Councillor
Toby Dawson
Conservative
Jonathan Bryant
Green Party
Stuart Condie
Liberal Democrats
Dunstall Ward - Elects Two Councillors
Mustak Miah
Conservative
Christine Mucklestone
Conservative
Pam Haigh
Labour
Diane Black
Liberal Democrats
Peter Williams
Liberal Democrats
Franklands Ward - Elects Three Councillors
Philip Beck
Conservative
Claire Fussell
Conservative
Tobias Parker
Conservative
Andy Stowe
Independent
Graham Allen
Liberal Democrats
David Eggleton
Liberal Democrats
Janice Henwood
Liberal Democrats
Gatehouse - Elects One Councillor
Adam White
Conservative
Heather Salisbury
Green Party
Leylands Ward - Elects Three Councillors
Diane Heckles
Conservative
Colin Holden
Conservative
Steven Mucklestone
Conservative
Anne Eves
Green Party
Simon Hicks
Liberal Democrats
Mohammad Hossain
Liberal Democrats
Meeds & Hammonds Ward - Elects Two Councillors
Cherry Catharine
Conservative
Elizabeth White
Conservative
Sean Kelly
Independent
Robert Eggleston
Liberal Democrats
Tofojjul Hussain
Liberal Democrats
St Andrews Ward - Elects Three Councillors
Jeremy Catharine
Conservative
Mark Scholfield
Conservative
Antony Smith
Conservative
Matthew Cornish
Green Party
Ray Woods
Independent
Joanne Rodway
Labour
Rebecca Sinnatt
Labour
Christine Cherry
Liberal Democrats
Cedric De Souza
Liberal Democrats
St Johns Ward - Elects One Councillor
David Hutcheon
Conservative
Richard Cherry
Liberal Democrats
Victoria Ward - Elects Three Councillors
Liz Kelly
Conservative
Billy Lee
Conservative
Martin Willcock
Conservative
Yann Davies
Independent
Matthew Goldsmith
Liberal Democrats
John Orchard
Liberal Democrats
Brenda Williams
Liberal Democrats
2019 Councillor Numbers for Burgess Hill Town Council
Liberal Democrats: 11
Greens: 4
Conservatives: 2
Independent: 1

Standing Down
Peter Chapman (Independent) Victoria
Lee Gibbs (Lib Dem) Victoria
Andrew Barrett-Miles (Conservative) Gatehouse
Sylvia Neumann (Green) Norman
Robert Duggan (Green) Franklands
Max Nielsen (Lib Dem) Leylands
Sarah Lawrence (Lib Dem) Hammonds
Joseph Foster (Lib Dem) Meeds
Roger Cartwright (Lib Dem) St Andrews
Kathy Willis (Lib Dem) St Andrews