2019 Burgess Hill Town Council Election Candidates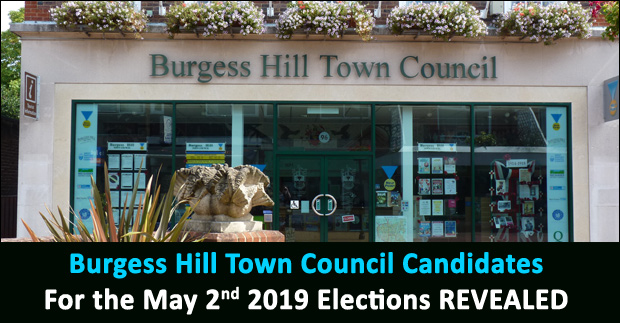 Burgess Hill has now been split into 10 electoral wards. They are:

Meeds (2); Norman (1); St Johns (1); Gatehouse (1); Dunstall (1); Victoria (2); Hammonds (1); Leylands (3) ; Franklands (3); St Andrews (3)

In total, 18 councillors sit on Burgess Hill Town Council.

As of March 2019. Burgess Hill Town Council consists of 17 Conservative councillors and 1 Liberal Democrat.

The town council election takes place on Thursday May 2nd.
The full list of the candidates running for election on to Burgess Hill Town Council:

Dunstall Ward - Elects One Councillors
Terry Barnes
Green Party
Pamela Haigh
Labour
Emma Co-Gunnell White
Conservative
Franklands Ward - Elects Three Councillors
Graham Allen
Liberal Democrats
Janice Henwood
Liberal Democrats
Gemma Bolton
Labour
Richard Cherry
Conservative
Andrew Landriani
Conservative
Tobias Parker
Conservative
Robert Duggan
Green Party
Gatehouse Ward - Elects One Councillor
Andrew Barrett-Miles
Conservative
John Fernandez
Green Party
Simon Hayward
Labour
Hammonds Ward - Elects One Councillor
Linda Greatorex
Labour
Steve Hansford
Conservative
Sarah Lawrence
Liberal Democrats
Leylands Ward - Elects Three Councillors
Anne Eves
Green Party
Tara Greatorex
Labour
Diane Heckles
Conservative
Liz Kelly
Conservative
Prudence Moore
Conservative
Simon Hicks
Liberal Democrats
Max Nielsen
Liberal Democrats
Meeds Ward - Elects Two Councillors
Elaine Bolton
Labour
Joseph Foster
Liberal Democrats
Tofojjul Hussain
Liberal Democrats
Anne Jones
Conservative
Adam White
Conservative
Norman Ward - Elects One Councillor
David Chalkley
Labour
Sylvia Neumann
Green Party
Liz White
Conservative
St Andrews Ward - Elects Three Councillors
David Andrews
Labour
Tony Balsdon
Labour
Roger Cartwright
Liberal Democrats
Kathy Willis
Liberal Democrats
Matthew Cornish
Green Party
Christine Cherry
Conservative
Colin Holden
Conservative
Ray Smith
Conservative
St Johns Ward - Elects One Councillor
Robert Eggleston
Liberal Democrats
Chris French
UKIP
Ian Greatorex
Labour
Mustak Miah
Conservative
Victoria Ward - Elects Two Councillors
Peter Chapman
Independent - BHU
Lee Gibbs
Liberal Democrats
Richard Neville
Labour
Chris Tomas-Atkin
Conservative
Mandy Tomas-Atkin
Conservative
The Stats
Coming Soon....

Standing Down
Details will be added soon...

Candidate Bios
Over the next month we hope to bring you bios of many of the candidates standing in the election in order to aid your decision making.

If you're a candidate, email elections@burgesshilluncovered.co.uk with your information along with a photo, and we'll add a page about you to our election section.