Burgess Hill Live Snow Blog 2018
26th February 2018
Panic Stations!!!! The expected snowfall in the UK for the final week of February has hit Burgess Hill late into the morning on Monday 26th February. We'll keep you updated as best we can during these worrying times as the town will inevitably grind to a halt.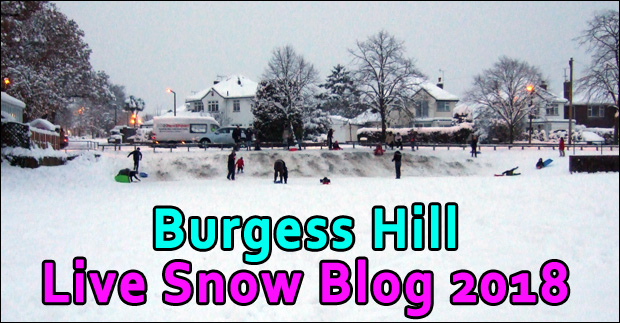 Tuesday 27th February. 08:30 am

Burgess Hill has about an inch of snow. The following schools have closed:


Burgess Hill Academy
Downlands
St Paul's
Warden Park
Woodlands Meed's school and college sites
St Wilfrid's
Southway
Gattons
London Meed
Open:
Manor Field
Sheddingdean
Birchwood Grove

Monday 26th February, 11:37am

We captured the moment the snow began to fall and shared a video on Instagram...



15 minutes later it stopped snowing, the sun came out and our normal day resumed.

1:50pm
Snow flurries, but snow very fine and not settling. Very overcast. Freezing outside.... again the sun came out.

9:30pm
The snow finally started to settle, but barely more than a dusting as the population of Burgess Hill head off to bed. What will the morning bring?

To be continued...


Spread the word! The snow has arrived in Burgess Hill

Got an opinion on this story? Leave a comment below.....
Are you coping with the snowy conditions?