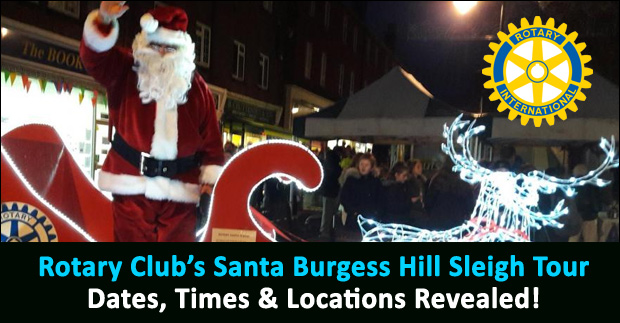 LIVE Santa Tracker
To find out exactly where Santa is during any of his tour dates, check out his live tracker here... http://www.burgesshillsanta.org.uk/tracker.html - perfect for those not on his route who want to meet him in the street somewhere.

Monday 3rd December 6pm-8pm
Oakhall Park, Hazel Grove, Pinehurst, Beechwoods, Franklands Way, Greenlands Drive, Greenlands Close, Keymer Road, Sheering Drive
(possibly Sycamore Drive).

Wednesday 5th December 6pm-8pm
Crescent Road, Firtoft Close, Midfields Drive & close, Millers Way, St Wilfrids Road, Blackhouse Lane, Noel Rise & Green, Mill Road to Leylands Road
(Possibly St Peters Road, Windmill Drive and Highlands Drive.)

Thursday 6th December 6pm-8pm
Wellbeck Drive, Farnlea, Barkdale, Huntingdon Way, Romaine Close, Welbeck Close, Manor Road, Larkspur Drive, Amaryllis Road, The Vineries.
Monday 10th December 6pm-8pm
Golden Hill, Johnston Drive, Kings Way, Copestake Drive, Gerald Close, Quarry Close, Rolfe Drive, Mansion Close, (Possibly Unicorn Way)

Wednesday 12th December 6pm-8pm
Bourne Park –Robin Road, Skylark Way, Linnett Lane, Brambling Way, Woodpecker Crescent, Blackbird Close, Woodpecker Crescent, Sparrow Way, Wren Close, Coulstock Road, Starling Close, Swallow Rest, Copper Close, Barley Drive, The Maltings

Thursday 13th December 6pm-8pm
Glendale Road, Alexandra Road, , Churchill Way, Marlborough Drive, Ravenswood Road, Inholmes Park Road, Avonhurst, Inholmes Close, Broad Green Ave, Wykeham Way.

Monday 17th December 6pm-8pm
Unicorn Way, Icarus Avenue, Pegasus Place, Phoenix Rise, Rhea Close, Aphrodite Way, Wyvern Way, Curf Way, Batt Street, Tindal Crescent, Heritage Lane, Tinchurch Drive, Fish Tail Road,

Wednesday 19th December 6pm-8pm
St Peters Road, Windmill Drive, Highlands Drive, Wyberlye, St Johns Avenue, Park Close

Thursday 20th December 6pm-8pm
T.B.A